An astronaut's eye view on NZ
An astronaut's eye view on NZ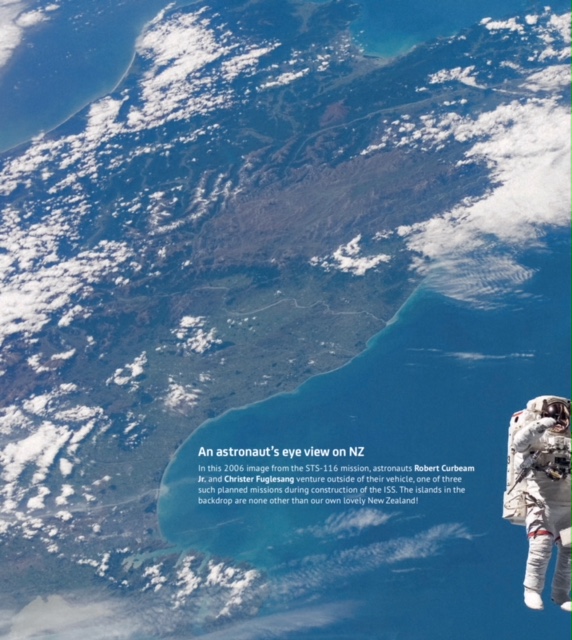 In this 2006 image from the STS-116 mission, astronauts Robert Curbeam Jr. and Christer Fuglesang venture outside of their vehicle, one of three such planned missions during construction of the ISS. The islands in the backdrop are none other than our own lovely New Zealand!
Robert Lee Curbeam, Jr. (born March 5, 1962) is a former NASA astronaut and captain in the United States Navy.
Curbeam graduated from Woodlawn High School, Baltimore County, Maryland in 1980. He earned a Bachelor of Science degree in Aerospace Engineering from the United States Naval Academy in 1984, a Master of Science degree in Aeronautical Engineering from the Naval Postgraduate School in 1990, and a master's degree in Astronautical Engineering from the Naval Postgraduate School in 1991.
He is a member of the U.S. Naval Academy Alumni Association and the Association of Old Crows.
Curbeam was named Fighter Wing One Radar Intercept Officer of the Year in 1989 and received the U.S. Naval Test Pilot School Best Developmental Thesis (DT-II) Award.
He currently holds the record for the most spacewalks during a single spaceflight. During the STS-116 mission, Curbeam completed four spacewalks. (Wikipedia)
Arne Christer Fuglesang (Swedish pronunciation: [?:?? kr?st?r f?:gl?sa?]) (born March 18, 1957 in Stockholm) is a Swedish physicist and an ESA astronaut. He was first launched aboard the STS-116 Space Shuttle mission on December 10, 2006, at 01:47 GMT, making him the first Swedish citizen in space.
Married with three children, he was a Fellow at CERN and taught mathematics at the Royal Institute of Technology before being selected to join the European Astronaut Corps in 1992. He has participated in two Space Shuttle missions and five spacewalks, and is the first person outside of the United States or Russian space programs to participate in more than three spacewalks. (Wikipedia)